This coming weekend one of Australia's best surfboard collections will be sold at auction. The collection includes one-of-a-kind boards from Bob McTavish, Terry Fitzgerald, and Mark Richards, and while some of the boards have been restored all of them hold historical significance in one way or another. The collection belongs to veteran WA surfer Richard Hadley. Richard is a fanatical gatherer - he also collects fishing reels, rods, and marine items such as outboard motors - and he had grand plans for his horded goods. Unfortunately he was stymied by local government and the boards will now go under the auctioneer's hammer. Collectors everywhere are in a tizz, many visiting their bank manager and booking tickets to Perth this weekend.
Swellnet spoke to Richard to find out some backstory.
Swellnet: How long have you been collecting surfboards?
Richard Hadley: I first started in 1986. I had an old caravan park down in Smiths Beach, near Yallingup, and I put a restaurant in and I started decorating it with a nautical theme and surfboards. That's where it started from. I sold the restaurant in 2005 and my plan was to open up a museum on some land that we had between Dunsborough and Yallingup. But after six years of angst with councils I'm going to sell off the collection.
So is it with some regret that you're selling your boards?
It was a dream to have had the museum. It would have have displayed boards and had another area with a picture theatre and then also travelling exhibitions or whatever else. And we also had a brewery, that was gonna have a 100 seat restaurant in it. I had people lined up to run the brewery and I'd just about signed the building contract when the council said, well, by the way, you can only have 20 people in your restaurant at any one time otherwise you've gotta get it rezoned.
So we got it rezoned, they passed it, but then the last straw was when they came back to me and said they wanted 161 car bays, all bitumen paved and drained, and they also wanted 56 bicycle racks.
It was the straw that broke the camels back. I just said, this is too hard so unfortunately I'm selling the collection.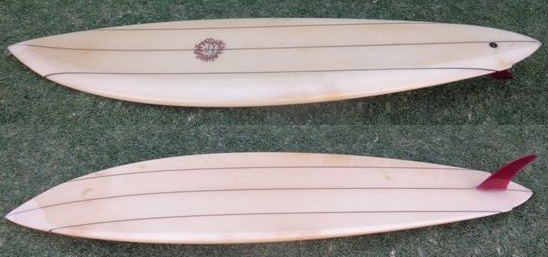 Were you a very dedicated collector from the beginning?
Well, initially I started collecting fishing rods. I had a lot of antique reels and fly rods and marine stuff, as well as surfboards. And that was all décor for the restaurant. People used to love it. They'd say it was fabulous. And then it just went from there.
Originally I just bought local boards but then I started travelling a lot more, first to the East Coast, and then I started buying a lot through Von Weirdos and from the auctions at Noosa, I did a couple of trips to California, and then a few trips to Hawaii. So that's how I finished up getting what I got.
How's the second hand market for these boards? Think your boards will have increased in value?
I don't know, I'll tell you that after the auction. But I think these sort of things always have a market. I've got a lot of one off stuff and most of it is in pretty good nick. I haven't just gone out and bought stuff for $300, I've always been pretty discerning. And the longer I've gone on the more discerning I've got.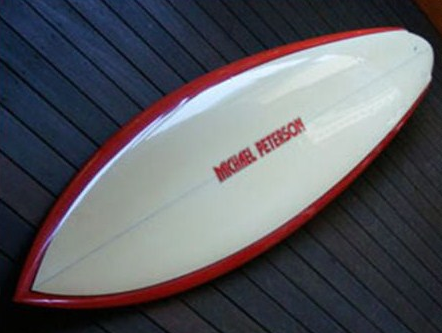 So you've spent money on boards you really wanted?
Oh yeah. The whole lot, with the memorabilia and all that, it'd be over [amount removed at Richard's request] I've outlaid.
I had an 80 seat restaurant and people who knew nothing about the boards would come in and marvel at them. And they are works of art, aren't they? They're amazing. No two are the same. That's what got me going, and as I said I had a great fishing reel and fly rod collection which I sold about 10 years ago. I've still got the marine collection, outboard motors and all sorts of bits and pieces like that.
Do you have an opinion on riding old surfboards, Richard? Should they be ridden or hung on a wall?
Ridden. They should be ridden, except for the really old boards. I've got a couple of Wayne Deane's I love riding, and as you'd know Wayne makes a really nice board.
But you've got some very rare boards in your collection, would you advocate riding them?
Oh....yeah....but a lot of the real older boards don't perform as well as the new ones of course, what with the weight and that. My first surfboard was a hollow wooden one and my first fibreglass board was a Barry Bennett, it probably weighed 25 pounds in the old days. A lot of the boards got up to 30 pounds in the old days. You'd need one kid at each end carrying it down the beach.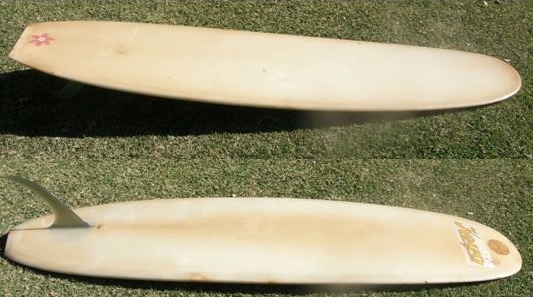 OK, the boards you're selling, are they your whole collection or just a select part of it?
No, it's a select part, that's probably the best way to describe it. I've gone through it, there's a couple of one offs here and there: the Bunker Spreckels board, a couple of McTavish's, and the Corky Carroll board, they're all one offs. There are some interesting ones there.
What will you do with the ones you're holding onto?
Well I'll probably do another auction later on.
Really..?
Yeah, well what I don't want to do is kill this auction but I've got over 200 more boards.
Are they equally as unique?
They've all got something going for them. Of course there's no more Bunker Spreckels or boards like that, or the Bob McTavish one he did with Morey Pope, there's no more like that, but there's still some lovely boards in the collection.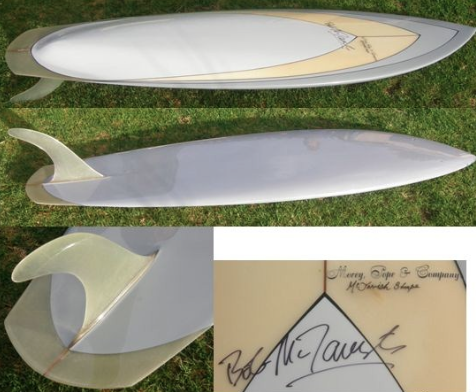 Who did the pricing for this collection? Because the estimated price seemed to be a lot lower than what would reasonably be expected.
Yeah, yeah, the auctioneer advised me not to go too high because then all of a sudden you've got a dead auction. He said the good boards will get their price anyway regardless of what the estimate is. For instance, at Randy Rarick's auction he'd have no reserve. He'd have estimated value but no reserve. I had to listen to the auctioneer, and he said that if you've got people bidding it'll get whatever price it gets.
You mentioned Randy Rarick, have you had any contact from overseas buyers?
We only just started publicising it. It only went onto the website three or four days ago. Again, the auctioneer said you don't go in too early or people get a bit blasé so I listened to his advice.
The website
only went up this week.
Well already there's been a lot of excitement surrounding the auction. Few fellas I know are checking their bank accounts.
Well that's good. The money is is going to go toward a resort I'm developing. I've got an acre and a half that was kept off the old caravan park and it's in prime location right on Smiths Beach, facing north, and I've got a DA to build apartments there.
No problems with the council then?
Ha...no, not at this stage.
All the best with the auction Richard. Let's have a chat when it's over.
Thanks. Yeah, let's speak then.